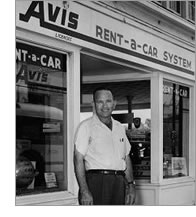 Avis NLA has been serving Shreveport and Monroe, Louisiana, as well as the "Ark-La-Tex" area for over half a century. It all began on June 1st, 1950, when Joseph Scoggin started one of the first car rental companies in north Louisiana, Airline Car Rental, Inc., serving the Shreveport Municipal Airport. Just as Shreveport began to grow, so did Joe's car rental company when in 1952 he purchased an Avis franchise from Warren Avis himself, and Avis North Louisiana was born. In 1964, seeking to serve more of the northern Louisiana community, Airline Car Rental purchased another Avis franchise in Monroe, Louisiana. However, the growth did not stop there for Avis North Louisiana, as Joe's sons Randy and Dudley Scoggin also joined the business.

In 1977, after the Greater Shreveport Municipal Airport expanded to become the Shreveport Regional Airport, Joe along with sons, Randy and Dudley Scoggin, expanded to add a location on Monkhouse Drive. Avis North Louisiana has remained in these three locations ever since. The next major expansion occurred in 1997 with the completion of the Airport Travel Center, a six-acre facility providing the traveling public with fuel, food and entertainment.

Since those beginnings, Avis North Louisiana has continued to offer a full variety of premium automotive services from oil changes and car washes, to tire rotation and valet airport parking.  The future looks brighter still as Jonathan Scoggin and Nathan Hicks, son and son-in-law of Randy, prepare to take Avis North Louisiana into the next half century. The innovation has already begun as Avis North Louisiana now offers quality used cars to the public from the fleet at below retail cost. For the last 50 plus years Avis NLA has been proud to serve the north Louisiana community and by trying harder in the Avis tradition, we look forward to continuing our record of service for the next half century.